Dr. Julie Senecoff, director of pre-healthcare programs at Manor College, finds the most enjoyable "lightbulb moments" when working with students.
Teaching on Zoom is hard work. This hurdle was not the most difficult during COVID for Dr. Julie Senecoff. He missed the sense of community created by seeing students on campus every day.
"It's harder to build community when you're not in the same room," Dr. Senecoff said. "Even if you're all in the same Zoom session, it's not the same."
This spring, she saw some light at the end of the pandemic tunnel. Dr. Senecoff met a group of students on campus celebrating their acceptance into the Manor College dental program. She knew the students from the previous classes, but hadn't seen them in a large group in person.
"I felt so happy for them," Dr. Senecoff said. "I think that's a big part of what sets us apart from other colleges, you really get to know the students. That day, we felt like we were a community again.
***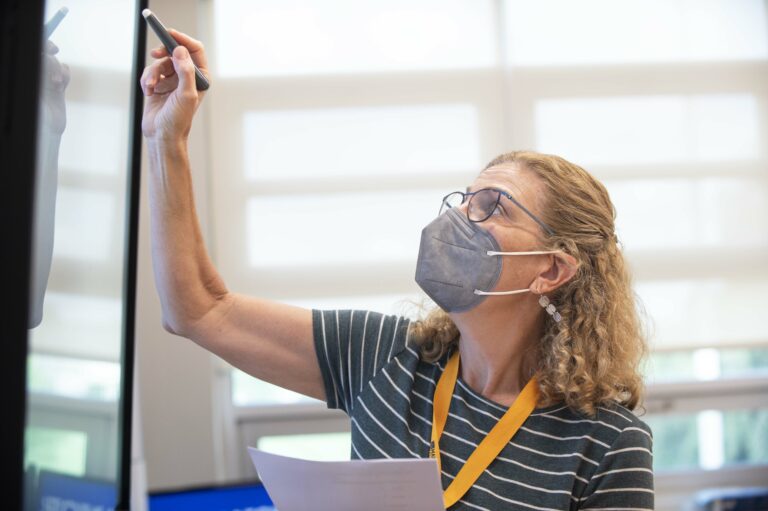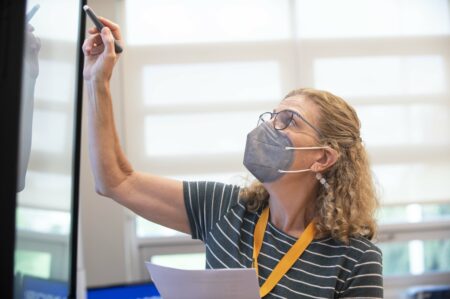 Dr. Senecoff's interest in biochemistry came while he was studying premedicine in college. Freshmen at the university took two compulsory semesters of chemistry. A few weeks of classes changed his career path.
"I had this amazing teacher and I was like, 'Maybe I like this better,'" Dr. Senecoff said.
Biochemistry is amazing, she says, because you have to follow the rules of chemistry. In a biological system things are more refined and no matter how much you study it you will never know everything.
"That's what science is," Dr. Senecoff said. "You can support a hypothesis, but you can't always prove everything. That's why I like it, you'll never know everything.
In 1987, Dr. Senecoff and her husband moved to Georgia and she got a job in a university research lab. In the lab, she started recording textbooks on audio for blind and dyslexic students.
"It was a very interesting challenge," said Dr. Senecoff. "It's not like reading a novel. You need to think about how you would explain it to students and you will feel like you are teaching it.
***
After moving to Pennsylvania in 2002, Dr. Senecoff began teaching at Manor College as an adjunct professor. She is currently the director of health sciences programs at the institution.
Over time, she has seen hundreds of students pursue careers in the medical industry. This includes three recipients of the Jack Kent Cooke Foundation Undergraduate Transfer Scholarship. Of the 24,000 students who apply each year, only the top 20% become semi-finalists. Only about 40 receive the award nationwide each year.
"I always tell students, 'You passed because you passed, I'm here to lead the class,'" Dr. Senecoff said. "I can give them the tools, but it's up to the students to use them. It's encouraging to see these students go to great places.
His favorite students to teach are freshmen and sophomores at Manor College.
"It's gratifying when you see them having a light bulb moment," Dr. Senecoff said. "Something clicks and they start to work harder, start asking more questions. They take ownership. In those early years, they learn critical thinking skills and see education as a collaborative experience."
Entering her 18th year, Dr. Senecoff finds her motivation in the progress she sees her students making.
"Our job at Manor is to prepare these students and give them the tools to succeed in the real world," Dr. Senecoff said. "As long as I can still do the job well and offer something to the students, that's what keeps me coming back.
Read more:
Internship at cancer center helps seniors at Manor College discover a career in healthcare
Meet a Blue Jay: Having the Opportunity to Choose Education
Meet a Blue Jay: Trip to Bangladesh Helps Philadelphia Native Recognize Gratitude for Resources
Learn more
Plan a visit to Manor College
Apply to Manor College
Learn more about the Health Services Program